my massage therapy specialities
I am a Quebec certified Massage Therapist , Trager MD Level 4 Practitioner with Reflect Repose Activation Education, Thai-Massage, Sports Release technics and PNF release stretching education.
I have complete all 3 Levels of Therapeutic Touch, Level 1 Reiki education and 100 hours of Acupressure.
My total hours of in province Massage Therapy hours is over 1800, with my american and out of province education this moves me towards 2500 hours. I am a Blue Cross verified therapist able to provide services to retired veterans, and all other blue cross holders.
I have been a massage therapist for over 15 years but have a preference for the use of the Trager MD method and assisted mobility technics.
I am a verified massage therapist and offer insurance reimbursement in the province of Quebec.
BELOW ARE SOME DESCRIPTIONS OF EACH OF MY MODALITIES AND VISUAL AIDS
THE TRAGER APPROACH™
he Trager Approach is the innovative approach to movement education, created and developed over a period of 65 years by Milton Trager, M.D. There are two aspects of The Trager Approach; one in which you, the client, are passive and the other in which you are active. The passive aspect is usually referred to as the tablework, and the active aspect is called Mentastics.

Utilizing gentle, non-intrusive, natural movements, The Trager Approach helps release deep-seated physical and mental patterns and facilitates deep relaxation, increased physical mobility, and mental clarity. These patterns may have developed in response to accidents, illnesses, or any kind of physical or emotional trauma, including the stress of everyday life. During the table work session the client is passive and lying on a comfortably padded table.
THAI-MASSAGE
Thai massage is an ancient healing system that combines broad and targeted acupressure, stimulation and manipulation of energy lines called sen, and assisted yoga postures. Treatment effects are enhanced when the patient is fully relaxed and breathing deeply. This traditional healing practice, called nuad or nuad boran in the Thai language, stands in sharp contrast to western massage therapies. Traditional Thai massage rarely uses oils or lotions, and the recipient remains clothed during a treatment. There is constant body contact between the practitioner and client, but rather than rubbing on muscles, the body is compressed, pulled, stretched and rocked in order to clear blockages and relieve tension. In this process, joints are warmed-up, muscles and tendons are stretched, internal organs are stimulated, and flexibility and tension are balanced. The overall effect is one of deep relaxation, rejuvenation, and physical and mental well being.

SPORTS MASSAGE THERAPY
Sports massage is a generic term for three different types of massage associated with athletic performance. Each type of massage has its own benefits and uses different techniques, (traditional swedish, kinesotherapy, and mobility manipulation)
Sports massage is done to help prevent serious athletic injury. It helps to warm up the muscles, stretching them and making them flexible for optimal athletic performance. A pre-event massage stimulates the flow of blood and nutrients to the muscles, reduces muscle tension, loosens the muscles, and produces a feeling of psychological readiness.
I DO NOT RECOMMEND SPORTS MASSAGE FOR THOSE EXPERIENCING CHRONIC FATIGUE, PARKINSONISM, BATTLING CANCER, FIBROMYALGIA, LUPUS AND UNDER 12 YEARS OF AGE.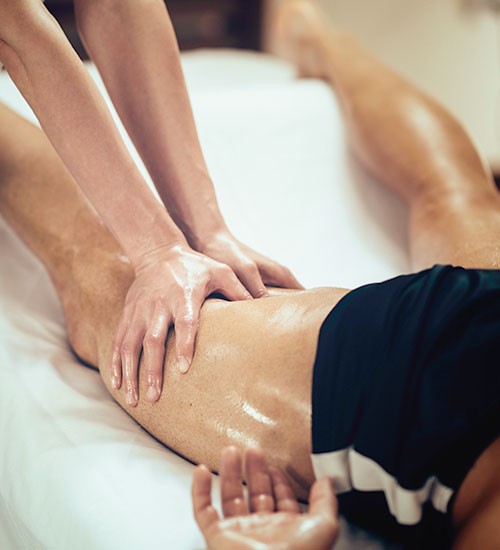 PNF STRETCHING THERAPY SESSION
Proprioceptive Neuromuscular Facilitation (PNF) is a more advanced form of flexibility training that involves both a stretch and a contraction of the muscle group being targeted.The client is also working during the contraction phase. PNF stretching was originally developed as a form of rehabilitation, and to that effect it is very effective. It is also excellent for targeting specific muscle groups, and as well as increasing flexibility, it may improves muscular strength, due to the exertion asked of the client. The intensity of each session is adjusted for each individual.
There are many different variations of the PNF stretching principle. It is also referred to as Facilitated stretching, Contract-Relax stretching or Hold-Relax stretching. Post Isometric Relaxation (PIR) is another variation of the PNF technique.